Fat-burning Formula for All-Over Body Fat (From Dr. Oz and Dr. Lindsey)

The new product from Dr. Oz is Pure Coffee Bean Extract. Talked about on TV, this product promises weight loss and more.
"Green coffee" refers to coffee in its rawest, purest form. The unroasted seeds, or beans, of coffea fruits may slow glucose absorption and stop fat from accumulating all over your body. In a new study, participants who took the supplement did not exercise nor did they change their diet, yet they lost over 10% of their body weight on average.
To benefit from green coffee bean extract, take 800mg twice a day, about 30 minutes before breakfast and dinner with a large glass of water. Be sure to purchase "pure" green coffee bean extract, free of binders, cellulose or other additives. Available online.
Exciting new research demonstrates that you can melt fat all over your body with green coffee bean extract. To benefit from what's being hailed as the safe new weight-loss pill take:
800mg green coffee bean extract, twice daily
Or 400mg 3x per day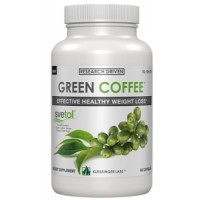 (With 50% Chrorogenic Acid)
This Pure Green Coffee Bean Extract provides 400mg per capsule and is recommended that you take 2 capsules 3x per day.
What is Green Coffee Bean Extract?
Very simply put, Green Coffee Beans are Coffee Beans that are fresh and have not been roasted – the coffee we brew has been roasted and this is why it is brown, rather than green. Green Coffee Beans naturally contain a compound called Chlorogenic Acid, which is the active weight loss compound in Pure Green Coffee Beans. Roasting Coffee Beans destroys the Cholorgenic Acid. Recent clinical studies and trials have shown that the specific combination of Chologenic Acid and caffeine are effective for weight loss. One particular study followed 16 people (with a body mass index between 25% and 30%) and between 22 to 46 years old. Study participants were monitored for 22 weeks and participants' diets and exercise were strictly monitored throughout the study. The participants ate on average 2,400 calories a day and had a calorie expenditure of 400 calories, nowhere near the levels necessary for weight loss.
Green Coffee Bean extract has the ability to enhance and boost the overall metabolic rate of the human body. Increased metabolic activity has numerous health benefits. The presence of chlorogenic acid found in green coffee bean extract boosts metabolism, burning fat and excessive adipose tissue in the body at a faster rate like never before. Green coffee beans are the same as regular coffee beans except that they haven't been roasted yet.