On last week's Dr. Oz Show, Dr. Oz had a segement on stress. He wanted to introduce supplements, foods and drinks that could help fight stress and get you to sleep at night when you couldn't. A big part of the segment was on teas. One tea in particular he talked about was Eleutherococcus Tea.
Dr. Oz on Eleutherococcus Tea
Dr. Oz specifically told the audience that this tea over the others was great for Type A personality people. They are people who are usually always axnious, nervous or figeting. These reason this type of tea if good for those people is that Eleutherococcus fights those problems.
Eleutherococcus Tea Directions / Dosage
Unlike the other teas that you might take at night, this one is a tea you should take in the morning. It will help you stay less stressed throughout the day and keep you going all day long.
Get Relaxed Tea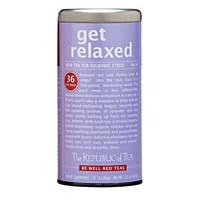 The Republic of Tea has their Eleutherococcus Tea called Get Relaxed Tea. It has the ingredient Eleutherococcus in it. this tea helps you stay relaxed throughout the day. It's only $10.50 for 36 bags.