With the popularity of Green Coffee Bean Extract, the original brand seen on the show (Genesis Today) has come out with a new version of the product...Svetol Pure Green Coffee Bean Extract!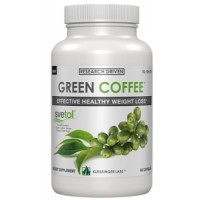 Why Did They Do This?
Well Dr. Oz has been warning about fly-by-night companies, sellers on Amazon and eBay selling Green Coffee Bean Extract that may not be pure, might not have the minimum 45% Chlorogenic Acid or worse! So Dr. Oz came out with some recommendations on what to look for:
Svetol on the bottle
At least 45% Chlorogenic Acid
GCA on the bottle
If they don't state at least one of these on the bottle, then it might be a scam.
Genesis Today's Pure Green Coffee Bean with SVETOL is an especially effective supplement containing two types of raw, unroasted green coffee bean extract for double the impact. It is standardized to contain a potent blend of chlorogenic acids combined with other natural active compounds, which are clinically proven to promote healthy weight control, fat loss and blood sugar levels. This combined polyphenol-rich green coffee bean extract is high in anti-oxidants and low in caffeine, which supports cardiovascular funcion and weight management without the jitters associated with overstimulation. This product is free of all excipients, binders, fillers, flow agents, and all other unwanted and unnatural ingredients.

This pure green coffee bean powder comes from pure raw green coffee beans and has nothing else added to it. It is encapsulated in 100% vegetarian capsules. This is the highest quality and more potent product of its kind on the market anywhere.

All green coffee bean products are guaranteed to contain at least 45% chorogenic acids.