I have enjoyed many of Genomyx's supplements in the past, so I was excited to try the new Genomyx EVOL. This is their new next generation pre-workout supplement. Now I am not going to dive into their ingredients, I will leave that to John and Glenn's Youtube Channel...that's what they do best. I am just going to talk about my experience with taking the product for what's it supposed to do...give you energy, focus, pump and increase that mood.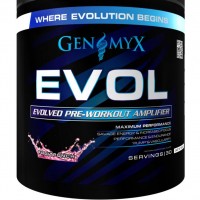 Energy from EVOL
So my first time taking the product was yesterday. I was coming out of Chicago and expecting about 2 hours in traffic before reaching the gym. I had worked all day and then had to drive to Chicago for a Visa on an upcoming trip, so I was already worn out. On the way home I was falling asleep...doing anything I could to stay awake. Siri did keep me company though.
So about 30min from the gym is when I decided to take the EVOL. I drank it over about 10 minutes time. I didn't really know what to expect. I am a big fan of products like Craze, Noxipro and other strong stims, so it could have been bad or good. Well within about 10 minutes I was WIDE AWAKE...not the shaky kind of awake, but just woke up after a nice slumber type of awake. This alertness stayed with me through my workout and a little bit on the drive home. Definitely didn't expect that. It has me hooked.
Did it Increase My Mood?
This is another thing I noticed. Going back to the drive back from Chicago, after I took the product I started singing along with the radio...and I don't sing...especially with the songs I was listening too stuck in traffic. Even at the gym I stayed in a great mood. Even my wife was surprised.
Focus at the Gym
Now between the mood and the energy came the focus. I can't say I was more focused that usual. I had my 'normal' focus when coming to the gym, which is usually very high. It was the same with this product.
Flavor...Fruit Punch...hmm
I know this can change by individual. I usually hate fruit punch flavor...back from the days of drinking Koolaid as a kid. But I have had other products from Genomyx and feel they do a great job at flavoring. This did not disappoint either. So if you are one of those people that stay away from fruit punch flavored anything, give this a chance...I don't think you will see fruit punch in the same light anymore.
Overall Experience with EVOL
I have my top pre-workout supplements that I enjoy the most over others. I would say this just might be in my top 3 now. I had only took this once though, remember that, so I will try to update this blog post when I have gotten a few more workouts under my belt with EVOL. I would definitely try this though. 40 servings, well 20 at the EVOL level for $29.99 isn't bad.
Oh...and look for a review from John and Glenn on our Youtube Channel soon. They will go more in-depth with the ingredients.