On a recent Dr. Oz Show, Dr. Oz talked about different supplements and foods to help you fight Alzheimers and improve your memory. The specific show was on Dr Andrew Weil's Holistic Secrets.
Huperzine A for Alzheimers
Dr. Oz said that Huperzine A comes from Chinese moss. (hope it doesn't take like it!)For Huperzine to work best, it should be taken in the early stages of Alzheimers. It's not nearly as effective later on. It comes in a highly concentrated compound, which is why some believe it should be considered a drug so it should be taken after speaking with your doctor.
Huperzine A Directions
Dr. Oz recommends taking at least 300mcg per day.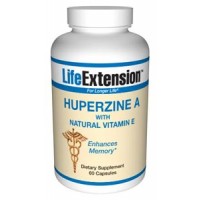 You can buy Huperzine A in a 200mcg per capsule dose for only $25.50!