iForce Nutrition is becoming a dominate brand in the sports industry with their potent products and amazing flavors. One new product they are now teasing everyone about is CONQUER.
+ GET A FREE SHAKER BOTTLE & SAMPLES!!!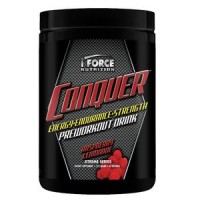 What is iForce CONQUER
This we don't know. We have only seen Facebook posts from them talking about this new product, but with no hints on what the product will be for. Could it be a post-workout, pre-workout...protein supplement? No one knows at this time, but when we do, we will definitely update this blog post.