USPLabs is coming out with a new...or you could say re-formulated version of their top selling pre-workout supplement, Jack3d. This new supplement is called Jack3d Micro.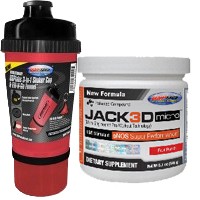 USPLabs claims that Jack3D Micro is not intended to replace the original Jack3D, but rather to complement and round out their lineup of supplements. However, Jack3D Micro was almost certainly created in response to the public outcry against DMAA, also known as 1,3 dimethylamylamine.
What is Jack3d Mico?
Micro Technology
Super Performance Formula
Clean, Smooth Energy That Lasts
Unique Patented & Trademarked Compounds
Zero Artificial Dyes
Creatine & Beta Alanine Free (No Tingles)
Testimonials
"2 scoops...3 PR's...consider me impressed!"
"One word...WOW"
"My entire body feels like a rock...and my workout ended 3 hours ago!"
When Will Jack3D Micro Be Available?
Currently it is in beta-testing, but should be out very soon