On Friday's Dr. Oz Show, Dr. Oz talked about different foods, products and supplements you should take to help keep your brain healthier, to reduce stress and to help improve mood. In this post we will be focusing on a supplement called L-Theanine, but he also talked about the following:
What is L-Theanine?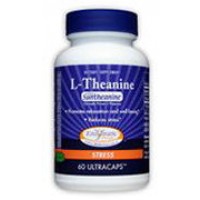 L-Theanine is also scientifically shown to support healthy blood pressure levels (levels already within normal range). The amino acid L-Theanine promotes relaxation and well-being while reducing stress.
What did Dr. Oz have to say about it?
Dr. Oz talked about how this is in a lot of green tea. It can help you fight stress and even calm you down when you have anxiety. This is very important to keeping your brain healthy. Besides green tea, Dr. Oz said you can get L-theanine in supplement form.
Directions / Dosage
Dr. Oz recommend up to 200mg 2-3 times per day. On days when you don't have a lot of stress, you can lower it. On days when you have more stress you can increase the dose.
Where to Buy?
You can buy L-Theanine by the 100mg capsule here. This allows you to dose it anyway you like.