The Quality Brew with Great Taste and Healthy Benefits
Life Extension has made a quality coffee that is not only naturally brewed with the very best ingredients but drinking a cup a day will have some health benefits such as weight mangament!
Why Life Extension Rich Rewards Coffee?
If you have ever expierenced an upset stomach after drinking coffee well suffer no more. Rich Rewards coffee beans are roasted gently and precisely in small batches with no additives or preservatives. And the HealthyRoast process preserves the special, naturally occurring compounds found in coffee beans that make it easy on your stomach. It also contains active ingredients that promote weight loss!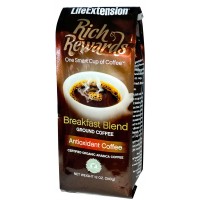 Did I hear "It could help me lose weight"?
This brew contains 176mg of Chlorogenic Acid Per Cup of Coffee which is a ket ingredient that promotes weight loss. Chlorogenic acid is more and more popular as a natural antioxidant. This antioxidant has been shown to be a contributor in weightloss by limiting glucose absorption, and with the combination of caffeine, this can lead to weight management by drinking a cup a day!
Where Can I buy this New Health Brew?