On yesterday's Dr. Oz Show, Dr. Oz talked about ways to help you fall asleep, especially if you have a case of insomnia. One supplement he talked about was Melatonin.
Melatonin Benefits
All Natural
Non-Addicting
Inexpensive
Non-Prescription
Melatonin Warnings
If you take too much, it can actually hurt your sleep cycle
When Should You Take Melatonin?
If you are going have a major shift in your sleep schedule. Such as traveling or shift work
if you are over the age of 60 when your melatonin levels drop
When Shouldn't You Take Melatonin?
If you are taking it when you are stressed or depressed
If you have already taken it once during the day
How Much Should You Take?
Dr. Oz recommends starting at 300mcg and taking as much as 1 gram when you have sleeplessness and insomnia.
Where to Buy Melatonin?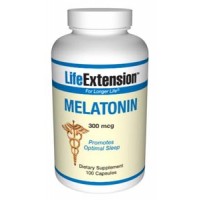 We now sell Melatonin at a 300mcg per capsule dose, the same that Dr. Oz recommended you start with. And it's only $4.31!