New new protein from Iforce Nutrition is finally here...iForce Protean (This is their spelling, really!). And it comes in mouth watering flavors:
Red Velvet Cake
Vanilla Mint
Vanilla Cupcake Batter
Chocolate Truffle
Strawberry Creamsickle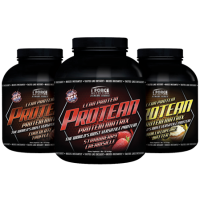 Protean: [proh-tee-uh n} - readily assuming different forms; extremely versatile.

LEAN STRONG EXPLOSIVE MUSCLE
From elite athletes to weekend warriors, lean powerful muscle is what drives ours bodies to succeed. We need muscle that can adapt and change at a moment's notice. It needs to be lean, strong, explosive, and able to outlast our most dedicated competitors. Building muscle like this requires precise nutrition containing the most high quality protein(the building blocks of muscle tissue) available. Protean™ has been specifically formulated to be the "World's Most Versatile Protein" so it can be the protein source of choice for all sports:
Baseball, Basketball, Powerlifting, Football,
Track & Field, Bodybuilding, Soccer,
Bicycling, & Exercise
If you're ready to take your physique and training to the next level, the most important thing to add is plenty of high quality protein into your diet. Protean™ uses an optimal blend of Whey Protein Concentrate, Whey Protein Isolate, Whey Protein Hydrolysate, Milk Protein Isolate, and Micellar Casein to ensure you get not only the highest grades of protein possible, but so that your body will be flooded with important branched chain amino acids like Leucine, Iso-Leucine, and L-Valine, immediately and all day long!
Protean™ is scientifically formulated to increase protein synthesis and therefor muscle recovery, muscle repair, and muscle growth! A recent study has proven that Protean™ is one of the only protein supplements on the market to contain the precise dose for optimal protein synthesis, muscle gains, and fat loss. According to this landmark study, just 20g of protein after your workout will improve protein synthesis by 97%*! Here is a direct quote from the doctors who performed the study "This study shows 20 grams of high quality protein providing about 9 grams of essential amino acids is the ideal amount of protein to consume after resistance exercise…"*

Protean™ not only contains exactly 20 grams of the highest quality protein, but it includes almost a full 20g of amino acids! This means a huge boost in muscle recovery, strength, and endurance!
Learn More About the 2lb Protean and the 4lb Protean