Omega Sports just released their Burn 24 supplement, which is a potent non-stimulant fat burner. It helps you burn fat 24 hours a day, which is where the name comes from. Omega Sports claims this product brings you back to a normal insulin response, because when you release insulin, it makes it almost impossible to burn fat. This product allows you to.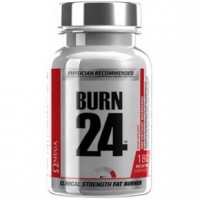 What are the Ingredients?
GCBfit™ Green Coffee Bean Extract (Standardized for 50% chlorogenic acids)
Berberine HCl
Bergenin
Momordica Charantia Extract (Standardized for Charantin)
GS4 Plus® (Gymnema Sylvestra standardized to 75% Gymnemic Acids)
ActiCissus® (Cissus Quadrangularis standardized for 10% Ketosterones)
Bioperine
Free Green Tea!
Right now, when you purchase Omega Sports Burn 24, you will receive a bottle of their Alpha Series Green Tea for free! That's a $40 value absolutely free!