At the Arnold Classic this past weekend in Ohio, many new products were released. One of the biggest booths at the event was held by Optimum Nutrition, showing again why they are the dominate manufacturer in the sports nutrition industry. The product that they showcased was a new Tri-Celle Casein protein called...Tri-Cell Casein Protein
Optimum Nutrition Platinum Tri-Celle Casein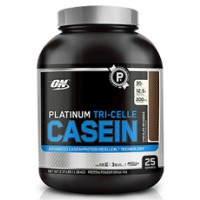 Now we are not going to go in depth here, but just give you a peak at the ingredients. John and Glenn will be reviewing this new casein product shortly and they will definitely be going in depth on what this new casein protein really is and how it stands up against everything that is already out there.
Ingredients
Now this is for the Chocolate Decandance flavor...
Calories: 160
Total Fat 1.5g
Cholesterol 30mg
Sodium 220mg
Carbohydrates 6g
Protein 30g
The protein is what they call their Restructured Micellar Casein. We will see what this means in depth when John and Glenn do their review.