On a recent Dr. Oz Show, Dr. Oz talked about supplementing with Pea Protein as a way to lose weight. This was because Pea Protein can help you curb cravings throughout the day.
Dr. Oz on Pea Protein
Dr. Oz recommended people take pea protein as a way to take in less calories throughout the day. Supplementing with this protein can help you curb the cravings for sugar and carbs...which will lead you to eating less throughout the day and saving yourself some calories.
On average, those who supplemented with this protein ate 300 calories less of high carb and sugary foods throughout the day. This can really help you lose weight over the weeks.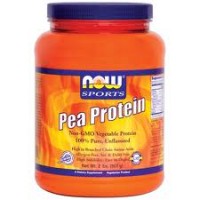 This pea protein is 100% pure pea protein and is only $16.99 for 2lbs
Dr. Oz's Pea Protein Powder Breakfast Shake Recipe
Ingredients
1 Cup Fruit – fresh or frozen
1 Cup low-fat milk
5 Ice Cubes