On today's Dr. Oz Show, Dr. Oz talked about pumpkin seed oil and the health benefits it can provide. Dr. Oz talked about the power of pumpkin seed oil and how it can improve the health of your heart by lowering your blood pressure and cholesterol. In clinical studies, this oil has been shown to actually lower bad (LDL) cholesterol levels in women and increase their good (HDL) cholesterol levels. This is all done while the oil is also lowering their blood pressure! This is definitely something important for people. We really like it here when Dr. Oz focuses on health more than just weight loss...both are important, but it's great when he talks about different topics.
Now he mainly talked about the oil, but it's also available in a pill form!
Pumpkin Oil in Pill Form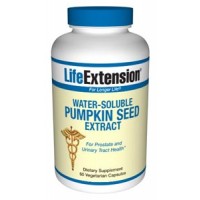 This product is pure pumpkin seed oil. It gives you 262mg per capsule. They recommend taking one capsule 3x per day.
Buy this for $15.00 + free shipping at Best Price Nutrition