Svetol® is the Dr. Oz recommended trademarked version of Green Coffee Bean Extract (As seen on Dr. Oz). Svetol® claims that it helps you simultaneously loose weight and improve your body's form. Now we all know the popularity of Green Coffee Bean Extract, but this is the first trademarked version we have seen!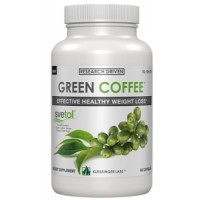 100% Svetol® (Many other brands have Svetol®, but it's not 100% Svetol®)
400mg per serving
NRG-X Labs has been around for over 10 years (Not a fly-by-night company!)
If you want to take a Pure Green Coffee Bean Extract Svetol®, we have it for just $13.99
400mg Svetol is Scientifically Proven


Chlorogenic acids seem to be the secret to Green Coffee Bean's success...
In order to affect the organism, the Chlorogenic acids have to be bio-available. In other words, they must be absorbed without being degraded in the digestive tract. For this reason, Naturex was required to study the bio-availability of Chlorogenic acids, found in Svetol. These works, carried out in association with the INRA of Clermont-Ferrand and published in May 2006, demonstrated for the first time the entire metabolism of Chlorogenic acids of Svetol. The results provide support of the bio-availability of certain Chlorogenic acids.
Effectiveness in Studies
Other stories have shown Svetol is capable of noticeably reducing the level of sugar present in the blood after a meal. A clinical study carried out on 50 people aged between 19 and 75 years demonstrated the the use of Svetol with regard to the recorded weight loss of those individuals who were supplemented with Svetol, as compared to individuals who received the placebo. Furthermore, it was observed that Svetol is capable of significantly reducing the BMI and that it favors the breakdown of the reserves of lipids.
Weight loss change from people taking Svetol compared to a placebo.
Using Svetol as a Fat Burner
The most popular use of Svetol is for it's fat burning abilities (Dr. Oz pushed it for weight loss). Svetol works by making your body stock fewer calories. At the same time it redefines the contours of your form. It does this by shutting down the glucose pathway. This causes the body to burn fat and use it as energy.
Where to Buy Svetol?
Best Price Nutrition has 400mg Svetol Green Coffee Bean Extract in stock and it's only $13.99!