Green coffee bean extract has been on the market for years. However it became very popular when Dr. Oz had Dr. Lindsey Duncan of Genesis Today on his show in the spring of 2012 discussing the weight loss potential of it. When Dr. Duncan was on the show, he and Dr. Oz made the mistake of telling people to buy "pure" green coffee bean extract. This opened the flood gates for marketers to make their own "Dr. Oz approved Pure Green Coffee Bean Extract etc…" products. The issue is that "pure" can take on any meaning as it is ambiguous and says nothing about the chlorogenic acid (a.k.a. CGA, the active ingredient in Green Coffee Bean Extract) content. Best Price Nutrition has been at the forefront of trying to not only guide consumer to purchasing efficaciously dosed Green Coffee Bean Extract but also telling consumers what the research has actually demonstrated. Many have exaggerated what the research has shown, it has been a mixed bag and studies should be improved and more should be done. Also Green Coffee Bean Extract will not work for everyone, for instance if you are relatively lean and just trying to lose those last few pounds covering your abs this is not for you. The purported effect is controlling one's blood sugar, this is an issue for overweight and obese people, not people close to their ideal weight.
Svetol® or GCA® what's the difference?
Don't feel like reading check out our 2 minute video on how to avoid Green Coffee scams (click here)
Svetol® is the trademarked green coffee bean extract owned by Naturex; it contains 45% chlorogenic acids. Consumers purchasing products with the Svetol® can rest assure that they are getting an efficaciously dosed green coffee bean extract. GCA® stands for Green Coffee Antioxidant and is the trademarked green coffee bean extract owned by Applied Food Sciences, Inc., and contains 45.9% chlorogenic acids. So if you are purchasing a green coffee bean extract product with GCA® on the label you can be confident you are getting a product with clinically studied amount of chlorogenic acid.
Other names thrown around to define Green Coffee Bean Extract, what do they mean?
Chlorogenic Acid (a.k.a. CGA) - we will skip the technical chemistry and sum it up as this is the antioxidant responsible for the purported beneficial effects of green coffee bean extract
Coffea canephora robusta - The species name for Arabica coffee beans
GCE - short for Green Coffee Extract
GCB - short for Green Coffee Bean
If you are unsure if you are getting a Green Coffee Bean Extract with the proper amount of chlorogenic acid (45-50%) Best Price Nutrition recommends sticking with products that have either the Svetol® or GCA® trademark on the label. Also make sure there is at least 200mg of Green Coffee Bean Extract at 45-50% chlorogenic acid per capsule.
NRG-X Labs 100% 400mg Svetol® Green Coffee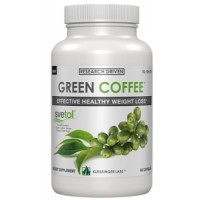 Life Extension GCA® Green Coffee
Info on GCA®
http://www.appliedfoods.com/products/green-coffee-antioxidant/
Info on Svetol®
Avoid Scams with Svetol® Green Coffee Bean Extract at Best Price Nutrition
http://news.yahoo.com/avoid-scams-svetol-green-coffee-bean-extract-best-195633985.html
//www.youtube.com/watch?feature=player_embedded&v=mL7J6obIa6M
Want to know what the research actually says, read this great review:
//www.bestpricenutrition.com/blog/dr-oz-svetol-green-coffee-bean-extract.html