On Dec 5th, The Suzanne Show will be talking about the weight loss superstar supplement, green coffee bean extract! This has been the top selling weight loss supplement of 2012 and continues to grow in popularity. Dr. Joyal will be on the show and talk about the power of Chlorogenic Acid, the ingredient within green coffee bean extract that helps you lose weight.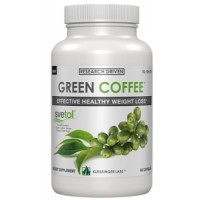 Dr. Joyal on The Suzanne Show
Dr. Joyal will reveal that although brewed coffee contains chlorogenic acid, green coffee beans contain much higher levels. He'll describe how green coffee extract, when taken just before meals, can be very effective in metabolic management. And he'll go on to discuss additional tools that offer a variety of metabolic benefits such as chromium, green tea extract, and soluble fiber.
What is Chlorogenic Acid?
It's the antioxidant polyphenol found in unroasted, green coffee beans — can help support heart-healthy blood sugar levels and promote successful weight loss.
Buy Green Coffee Bean Extract w/ Svetol 45% Chlorogenic Acid for $13.99