On today's Dr. Oz Show, Dr. Oz talked about how your hormones could be the reason you are not losing weight. He spoke about different conditions for both men and women.
What is Low Testosterone?
Low testosterone increases because it's converted into estrogen when you build up abdominal fat or become stressed. When you are under stress (like many of us are), your body started making more cortisol than testosterone. Now as men grow older, testosterone levels decrease, but Dr. Oz says it's happening much earlier in life now.
Effects
depression
obesity
osteoporosis
heart disease
death
loss of muscle tissue
decreased strength
less stamina
lower drive and motivation
The Solution to Low Testosterone
Dr. Oz recommended that men take tribulus terrestris, which is an herb that has been around for decades. It may help raise levels by reducing the binding of testosterone to sex hormone-binding globulin (SHBG). This and it doesn't have any side effects.
We recommend Allmax Nutrition TribX 90, which has the highest percentage of tribulus terrestris available. For just $16.99, you get a 45 day supply.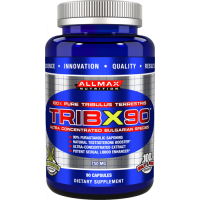 Dr. Oz also recommended adding a Zinc supplement. This can help raise those levels too. this one is less than $5.00!