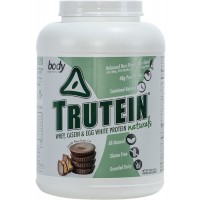 Here at Best Price Nutrition, we love Trutein protein so when I heard on the Body Nutrition Facebook page that Body Nutrition is coming out with an all natural formula of Trutein called Trutein Naturals I was more than excited! If you take a look at their page, looks like Body Nutrition was trying to get an idea if people would want a new natural protein from them...I mean the Trutein is amazing, so a great tasting protein in a natural formula would be awesome.
BUY TRUTEIN NATURALS 4LBS FOR $52.95
BUY TRUTEIN NATURAL 2LBS FOR $32.95
What is Trutein Naturals?
At this point, we only know about the idea and possibly the name. It being natural, we could guess that it will have the following characteristics:
No Artificial Flavors
No Artificial Colors
No Artificial Sweetners
Gluten Free?
The Flavors
This is the part everyone will be waiting for. I am guessing Chocolate and Vanilla, but according to their Facebook page, they are asking for the 3 flavors that people want most. And people are defintiely chiming in with their suggestions. My guess would be the Chocolate Peanut Butter since that flavor is so popular with regular Trutein.
When Will Trutein Naturals Arrive?
We have no idea. This was just a post from their Facebook page with an idea. I am guessing by the end of 2015 possibly? Though they are pretty quick to get new products and flavors to the market...only time will tell! For now, you will just have to settle for their amazing tasting regular trutein :-)