Vega All Natural Performance Protein for an Enhanced Lifestyle
Looking for a plant based protein product that will promote increased strength and endurance as well as reducing inflammation and recovery time? Look no further than Vega's Performance Protein!
What is Vega Performance Protein?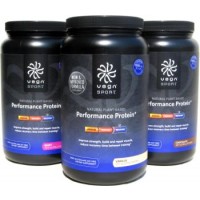 Vega Perfomance Protein is an All Natural Plant based protein formula for individuals looking for a complete protein that will meet their dietary demands. Vega Performance protein consists of top quality ingredients featuring 5,500mg of BCAAs and 5,000mg of glutamine per serving,
Benefits of Vega Performance Protein:
Increased Performance
Reduces Inflammation
Assists in Recovery
Provides Top Quality Ingredients
With top quality ingredients and an innovative formul Vega Sport Performance Protein contains effective ingredient like SaviSeed (sacha inchi) protein, a rich, plant-based source of the amino acid tryptophan. With these ingredients Vega Performance Protein provides motivation that will have hitting the grind every single day while replenishing your body with a natural and healthy supplement!
Where Can I Buy Vega Performance Protein?
We carry the Vega Performance Protein for $53.99 right here!