How Can You Avoid Bad Green Coffee Supplements?
...And Pick One That Will Actually Work For You?
"Not All Green Coffee Bean Extract Supplements Are Created Equal."
Be warned, before you purchase your green coffee bean, you really need to know what you are buying. There are tons of fly-by-night companies opening up online selling their own product and "cashing in" on this weight loss pill's popularity!

Please beware, many of these fly-by-night company claim to have the best product, but then they fall short by not having the correct dosage or not even having a high enough amount of chlorogenic acid as seen in the clinical studies to have any effect on weight loss!

The success of your weight loss is mainly dependant on the quality of the green coffee you purchase. So before you decide to buy, make sure the green coffee you are buying meets all the criteria!
Lose 17 Pounds!

In a recent study published in the Diabetes, Metabolic Syndrome and Obesity journal, scientists used Green Coffee Bean Extract to study the effects of weight loss in human participants. What did they find? The average person in the study taking this product lost 17lbs and 16% of their bodyfat!!!
Don't Be Fooled By Cheap Green Coffee!
We have put a list together of things to watch out for when choosing the green coffee for you. We are going to begin with what Dr. Oz recommended on his show. Not to be perfectly clear, Dr. Oz did not endorse any specific product, so if you see a company stating this, stay away!
Here are Dr. Oz's criteria for Green Coffee:
It must contain GCA® or Svetol® and state that on the label.
No fillers, binders or any other extra ingredients in the product.

Must be 100% pure!
Dr. Oz recommends 1,200 mg per day for weight loss! (400mg 3x per day)
When you look at a product make sure it meets those label claims. Here is our label.
At Best Price Nutrition, we also have criteria:
Look out for false claims. Check out our video on the topic.
It should be made in an FDA registered laboratory.
The manufacturing facility is cGMP certified.
The manufacturer of the product should be a well known business
What Makes Kleissinger Labs Different From Other Products?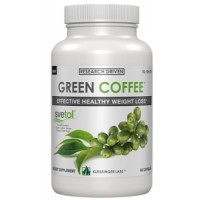 Kleissinger Labs™ uses Svetol® which has over 45% Chlorogenic Acid
Kleissinger Labs™ is 100% pure
Kleissinger Labs™ has no added ingredients, fillers or binders
Kleissinger Labs™ supplies the recommend daily dose of 1,200mgs (2 capsules taken 3 times a day)
Kleissinger Labs™ is manufactured in a cGMP certified facility