We make a concerted effort to keep our inventory 100% accurate as we run a live inventory with our website. Therefore when you choose a product the website will display whether or not the product you are ordering is available, delayed shipping, or out of stock. Weekends DO NOT count as business days. If an item is out of stock (shown also as delayed shipping) and you decide to order, please note it will not ship until it is back in stock. Learn about our International shipping options here.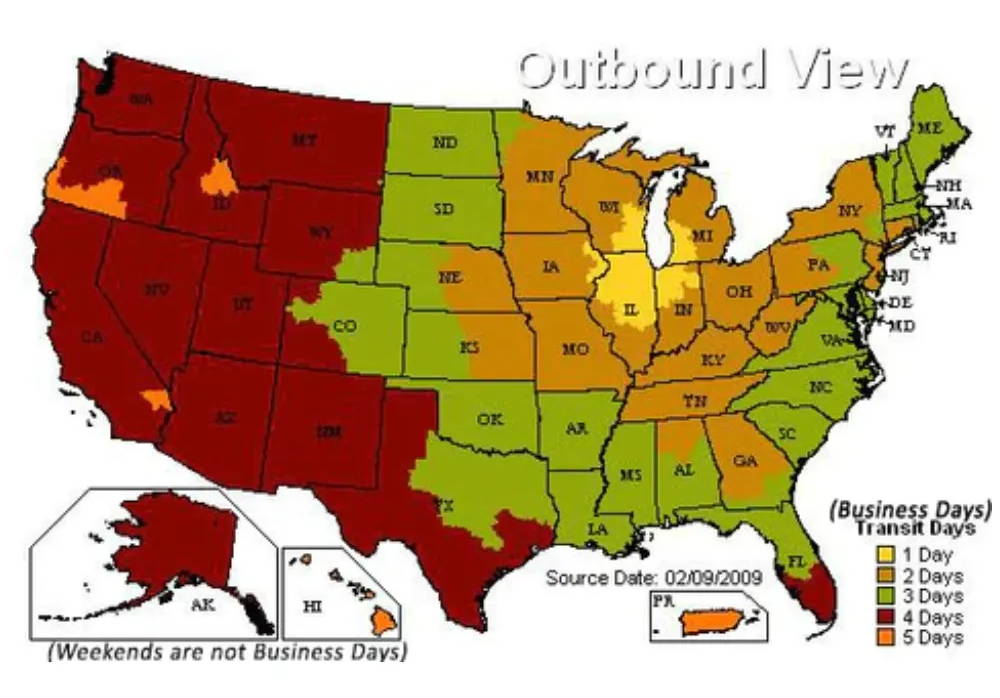 Shipping Times
Standard shipping to the USA is 2-5 business days on average. These packages are shipped for a flat rate starting at $4.99+. Although we call this standard shipping these packages reach 99.6% of the country within 4 business days! This is due to our 10,000 square foot warehouse centrally located just outside of Chicago in Bolingbrook, IL.
USPS Priority Mail, UPS Next Day Air, UPS 2nd Day Air, and UPS 3 Day Select are available for additional charges. Please note cut off times for shipping are 2pm CT Monday -Friday.
UPS and USPS themselves only offer service guarantee on USPS Priority Mail Express and UPS Next Day Air. Anything lesser DOES NOT qualify. In addition, only mechanical delays (delays caused by the carrier themselves) that are eligible. Meaning delays due to weather do NOT qualify.
When choosing your shipping method, please note that weekends are not considered business days.
Discount Codes
If you want to use a coupon code, ONE coupon PER ORDER ONLY. This cannot be combined with other offers, discounts, deals, and stacks.
Free Shipping Items
All orders over $99 receive free USA Shipping for USA customers only. The exception is for RTDs, energy drinks, other liquids and bars.
If an item is marked for free shipping it will get you free shipping on just that item, so if you order just that item or other items marked for free shipping your order ships free. If you order other items not marked for free shipping the weight of the item(s) marked for free shipping is/are not included in the weight of your package and will be billed the flat rate (with the exception of ready to drinks).
APO/FPO/DPO Shipments
We ship thousands of packages to military addresses every year. These are shipped via USPS Military Mail as UPS does not deliver to APO/FPO/DPO addresses. Please enter your address by filling in the appropriate fields with your address info. Your city will be APO, FPO, or DPO (rather than the actual city), the state will begin with Armed Forces in the dropdown, and since there are considered domestic shipments the country for these addresses is the United States. Military packages normally arrive within 4-10 business days.
Example Address
John Doe
Address Line 1
Additional Address Info (if applicable)
APO, AE 09354
United States
Shipping Address Errors
If you have incorrectly entered a shipping address or shipped your product to a different address (after we have shipped out), we can sometimes re-route it, but it depends on the carrier. You are responsible to repurchase the order if the address was entered incorrectly and marked delivered. If you need to change an address and it hasn't shipped out yet, make sure to call us directly at 1-800-499-4810. Do not email us, Live Chat or message us through social media as it can be up to 24 hours before we check those areas.
Lost Packages
If there are no tracking updates for your package, we are required to wait the full shipping time frame as sometimes the post office just does not update tracking and the package still arrives on time. If it is passed the time frame we consider it lost in transit. We then file a case with the post office and send you out a new package. There is still a chance you will receive the original package after the second one is shipped. If this happens, and you end up with two packages, we require you to return the first package otherwise you will be billed for both. You will receive a refund on the return shipping.
Weather Delays
Please note that we cannot control the weather and deliveries during bad weather by all shipping companies. Once we ship out, it is up to the shipping companies to deliver packages through bad weather. We will definitely work with you to find out more information, but it is out of our control when weather is an issue and refunds cannot be given due to it.
Protecting You Against Fraud
Please note that in our efforts to protect our customers from credit card fraud, our site uses software that instantly fraud checks each order (take less than 2 seconds). For any order that is flagged as fraud, we require those customers to undergo a verification process. These customers will have to email us the authorization code for this transaction before we will process and ship the order. This authorization code can easily be obtained by calling your card issuing bank or by logging into your online banking, and the authorization code will be listed under the details of this transaction.
It is rare that this happens, but due to dozens of fraud attempts happening daily, we have to implement fraud services.